Mixed reaction to NI health service review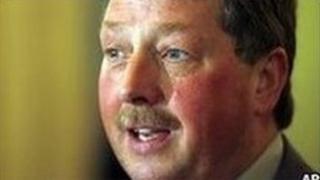 Finance Minister Sammy Wilson has welcomed the health review proposals to re-direct existing resources to improve the quality of the service.
He suggested he was open to a demand for another £70m for health over three years but added that the move "would depend on resources".
Mr Wilson said the executive was obliged to find the money, required in part to retrain staff for the changes.
He congratulated Health Minister Edwin Poots "for taking tough decisions".
Age NI said it welcomed the major review of the health service, but "hoped this is a thorough fundamental review of social care that will put forward radical and sustainable changes to fix our broken social care system".
Spokeswoman Anne O'Reilly said: "We need to future-proof health and social care now, so that people in their 30s, 40s, 50s and 60s will have a system in place that actually meets their needs.
"Age NI has a vision of what social care should look like - quality integrated social care that recognises the rights, aspirations and diversity of us all, and is based on the right to live with dignity, independence, security and choice.
"This review needs to be more than just rearranging the deck-chairs. It must generate a system that enhances wellbeing and independence, so that older people can continue to engage socially and maintain self-esteem, dignity and purpose.
The health service union Unison said many of the review's proposals had been made in the past by unions and other stakeholders.
A spokesperson said: "However, when we come to the core of the report, we find a 5% reduction in hospital services budget, a pathetic increase of only 2% in the social services budget, a wholly inadequate 3% increase in the familservices budget and a mere 9% increase in the community services budget.
"None of this comes anywhere near the resources needed for mental health, care of older persons or children's services and much of it is a charter for privatisation."
The NI Confederation for Health and Social Care (NICON), which represents organisations in health and social care, welcomed the "strategic direction" of the review and urged "a strong focus on early action".
David Bingham, chair of NICON, said: "The focus must now move to delivery. While we recognise that change is never easy, we would call on everyone involved to work together to determine how we can practically prevent ill-health, tackle inequality, look after our older people, support people in managing long-term conditions and use our hospital network to best effect.
"We can make better use of our existing resources and we owe it to our citizens to do so. Significant delays will result in an unacceptable waste of public money."