NI acute hospital numbers cut in major health review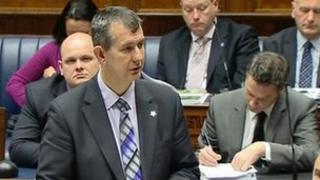 A major review of the health service in Northern Ireland has said the number of acute hospitals will probably have to fall from 10 to five.
Acute hospitals are those providing A&E services and emergency surgery.
The review said that elsewhere in the UK a population the size of NI would be served by just four acute hospitals.
Health Minister Edwin Poots said no decision had been made yet but hospitals would be assessed on clinical sustainability and patient safety.
He told the assembly on Tuesday: "It will be on that basis that we will be able to determine whether an acute hospital would be viable."
Reducing the number of acute hospitals from 10 to five would not necessarily mean closing five hospitals. The hospitals which lose acute services would still exist but would provide different services.
'Safe and effective'
The review also recommended that much greater emphasis should be placed on treating people in their own homes and in the community.
It recommended a greater focus on improving health and social services for the youngest children.
The review said there should be a re-structuring of existing services to develop a new 'Headstart' programme focusing on 0-5 year olds.
It added that early intervention to support the development of young children was one of the most cost-effective aspects of social care.
The minister said there would be "a significant shift" from provision of services in hospitals into GP surgeries where it was "safe and effective to do this".
To pay for that, £83m will be taken out of hospital services and put into community care.
The minister said the review was not about cost-cutting but would mean a "significant shift" in where funding was allocated.
Substantial re-training
He also warned that the changes would not be straightforward and would require "fundamental changes" to the way services were delivered.
He said the changes would also require "substantial" re-training of staff.
The report said Northern Ireland's 353 GP practices should form 17 federations based on the already established Primary Care Partnerships.
It said this should result in GPs "working together in a consistent manner."
It recommended that transitional funding of £65m would be needed over the next three years to allow the changes to take place.
The review was carried out by a team under Health and Social Care Board chief executive John Compton who said the changes were planned to take place over the next five years.
Mr Compton said the overriding desire was to describe and build a system of health and social care which would place the individual, family and community that use it at the heart of how things are done.
"Our proposals, which are wide-ranging, deal with quality and outcomes as the determining factors in shaping our services; the need for patients to be better informed and to have choice and control over their care, particularly in their later years," he said.
"It also describes changes to services for children and those with a disability or mental health difficulties.
"The new model underpins a sustainable and resilient service which the current model cannot deliver, and it provides a time frame within which change can happen in a structured, planned and thought-through way."