Northern Ireland severe weather warning in place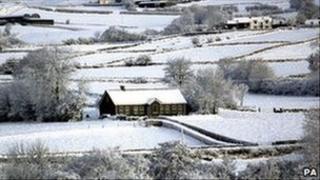 A severe weather warning has been put in place for Northern Ireland, with strong winds and snow forecast for Tuesday.
Earlier, the highest wave ever measured in Irish waters - 20.4m - was recorded off the coast of Donegal.
The Met Office has issued an orange "be prepared" warning for high winds.
Winds of 70mph have been recorded in Magilligan and 67mph in Castlederg. There are warnings of blizzard conditions on higher ground later.
There will be a mix of rain, sleet and wet snow in low areas, and snow on higher ground with up to 10cm in places like the Sperrin mountains.
The wind is expected to die down later, but icy conditions are likely overnight.
The Rathlin ferry has been cancelled, while Translink have said that the high winds will also lead to speed restrictions on all rail services throughout the day. They have warned passengers to expect some delays.
In Londonderry, the Foyle bridge was closed for a period on Tuesday afternoon due to the strong winds, but has now reopened.
There are speed restrictions on the railway line in the Derry area - it is running 20-30 minutes late due to the wind.
The Roshure Road, Desertmartin, is closed after a tree fell across it.
BBC NI's weather presenter Barra Best said that some areas may experience blizzard conditions.
"Snow showers will continue to move in from the west throughout the day," he said.
"Winds will also continue to build with the potential for some disruption."
The weather warning is in place until 09:00 GMT on Wednesday.