Peter Robinson wants justice issue resolved 'fairly quickly'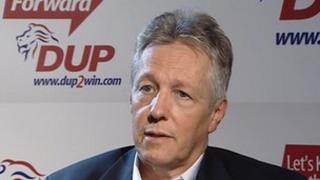 First Minister Peter Robinson has said he hopes that the Stormont parties' differences over how the justice department should be allocated can be sorted out in weeks rather than months.
The Justice Minister David Ford is elected by a cross-community vote.
But that arrangement is due to expire in May next year.
During assembly questions Mr Robinson confirmed that an options paper was circulated on Monday to party leaders.
The first minister confirmed that among those options is the possibility of reducing the number of Stormont departments.
Mr Robinson said he hoped the future of the department could be resolved "fairly quickly and painlessly".