Sammy Wilson: price must be right for corporation tax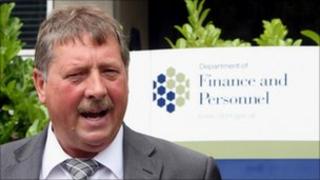 The Finance Minister Sammy Wilson has said that the price must be right if corporation tax is to be devolved to the executive.
He was speaking ahead of the first joint ministerial meeting between Stormont and Westminster ministers.
Northern Ireland ministers will hold talks with Owen Paterson and the Treasury on Thursday.
They want the rate to fall from 26% to match the 12.5% levied in the Republic of Ireland.
If agreed, the tax cut would have to be accompanied by a proportionate reduction in the block grant - the money Northern Ireland gets from the Treasury. That could be a cut of more than £400m a year.
Mr Wilson said the executive "understand that we have got to pay the price".
"That is a rule which we can't escape," he said.
"We want to make sure that that price is the correct price, it's reasonable, it does not hamper our ability to do things in the economy by cutting a massive amount off the block grant.
"Also if the government is keen to help us in rebalancing the economy that they will look for ways of trying to alleviate some of the cost of it by, for example, allowing us to use some of the extra tax revenues if we got investment.
"The tax revenues we would get from VAT, PAYE, National Insurance, they would off-set some of that against the bill."
Peter Robinson and Martin McGuinness will lead the Stormont delegation as they begin to hammer out a potential deal on devolving corporation tax powers.
Mr Wilson said the fact the meeting had taken so long to arrange was an indication that the Westminster government did not "appear to be in any hurry".
"There's a couple of reasons for that," he said.
"I suspect they're looking over their shoulder at Scotland and the demands from Scotland and there's a Scotland bill going through the House of Commons and there might be a bit of marking time until that bill is through."
The finance minister said the Treasury was always "reluctant" to give away tax raising powers to devolved administrations.
"I have to say that when a compelling case has been made to the government at Westminster for things which will help the Northern Ireland economy they have been helpful," he added.
"I hope that when they listen to the compelling case for the devolution of corporation tax, they'll do the same."
In October, Mr Wilson said that if agreed, it would be at least four years before the corporation tax level in Northern Ireland is cut.