McCausland 'appalled' by winter payment fuel cuts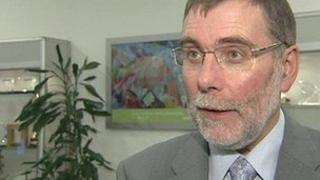 The Minister for Social Development has said he is appalled at Westminster's decision to cut the winter fuel payment.
Nelson McCausland said an announcement that the Executive will pay out £23m to help people with fuel costs was an attempt to "address the damage".
However, he said many pensioners would not benefit from the scheme.
"I was appalled that that they took that decision and I expressed that very strongly to them," he added.
More than 250,000 people in Northern Ireland will receive the one off payment from the Executive.
Cancer sufferers, pensioners and unemployed people are among those who will benefit.
Recipients will be determined by a 'qualifying week' in December and payments are to be issued in February.