Belfast's Victoria Square celebrates 'busiest day on record'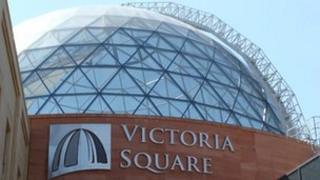 Belfast's Victoria Square has recorded the busiest trading figures in its history.
During the last week in November, the centre said sales were up by 29% on the same period last year.
The centre's main store, House of Fraser, said it had experienced its two busiest shopping days since the store opened in March 2008.
Visitor numbers hit 72,331 on Saturday 3 December making it the centre's busiest day on record.
In November, financial statements from CGI Hausinvest, the German property fund which owns the centre, showed that it had fallen in value by £29m in two years.
At the end of 2008 the centre was valued at £349m but by September 2010 its value was listed as £320m.
The fall of 8% is relatively low compared to the fall in value of other property assets across Ireland.
Victoria Square opened in 2008 in the face of a recession, however, it has largely weathered the storm and is more than 90% let.