Ex-Anglo Irish Bank head Sean FitzPatrick is arrested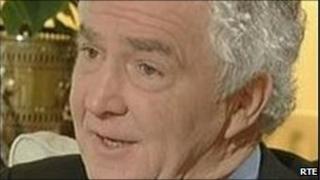 Former head of Anglo Irish Bank Sean FitzPatrick has been arrested as part of an ongoing investigation into alleged financial irregularities at a financial institution.
Mr FitzPatrick was arrested on Thursday morning and taken to Bray Garda Station for questioning.
In July 2010, Mr Fitzpatrick was declared bankrupt.
He owed 110m euros after investments in Anglo Irish shares became worthless following nationalisation.
Mr FitzPatrick built up Anglo-Irish to become what appeared to be one of the biggest success stories of the Irish Republic's boom years.
However, its business model, which involved lending huge sums to a small number of property investors, was exposed as fatally flawed by a collapse in property prices, caused by the credit crunch.
The bank was nationalised in 2009 and has cost the Irish taxpayer billions of euros.