Smithwick Tribunal told Army officers phone was tapped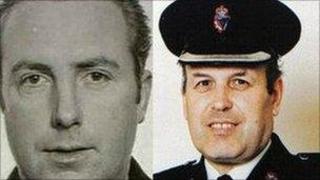 A former newspaper journalist has told the Smithwick Tribunal that the phone line of a senior British Army officer based in Lisburn was tapped.
Chris Ryder claimed the line ran from Army HQ to the attic of a house in Anderstown in west Belfast.
The Dublin tribunal is investigating allegations of Garda collusion in the IRA murders of two senior RUC officers.
Mr Ryder also denied suggestions that he had worked for MI5.
"That is what people of a republican disposition have said against me - I did not know a soul in MI5," he said.
"At one point a person did approach me but I was not interested."
Chief Supt Harry Breen and Supt Bob Buchanan were shot dead in an IRA ambush in south Armagh as they returned from a meeting at Dundalk Garda Station on 20 March 1989.
The former Sunday Times and Daily Telegraph journalist was described at the tribunal as an expert in policing and security matters in Northern Ireland.
Mr Ryder also alleged that parts from an Irish government funded factory in Dundalk may have ended up in bombs used by the IRA in the UK.
"British authorities identified bomb components and traced them back to the factory," said Mr Ryder.
Mr Ryder also claimed that the Irish government funding for the factory was withdrawn after he published the information in the Sunday Times.
Mr Ryder told Judge Smithwick that there was a high degree of frustration and anger among RUC and British Army officers in the 1970s and 1980s at what they believed was inaction by authorities in the Republic.
"The perception was that while fine words were being used to condemn the IRA, it was never backed up on the ground," he said.
He went on to describe sections in the Republic who he claimed sympathised with the IRA as "prawn-cocktail provos".
Introduction
Chris Ryder said he met Owen Corrigan, one of the three former Dundalk-based gardai under the spotlight at the tribunal, in Belfast in the mid-1970s.
Mr Ryder said he was having lunch at the La Mon Hotel with a senior RUC officer and was introduced to Mr Corrigan by Special Branch RUC officer Brian Fitzsimons.
"Later I went to the lavoratory and Mr Corrigan was there and we exchanged pleasantries, he then handed me his card and said if you are ever looking for stories look me up in Dundalk, there would be a few bob in it for me, wouldn't there?"
"Never before or since have I been propositioned by a policeman for stories."
Jim O'Callaghan, counsel for Mr Corrigan, read a statement on behalf of his client denying that he had been introduced to Mr Ryder or had passed a card to him.
When asked what previous evidence to the tribunal had caused his 'eyebrows to raise', Mr Ryder referred to Ireland's former Minister for Justice John O'Donoghue.
"He did not strike me as a very credible witness, there was a distinct sound of hands washing or wringing of hands," he said.
"He was so dismissive of the fact there could have been a mole, it was not appropriate, something like that should be taken seriously."
The leader of the TUV said the evidence given by Mr Ryder at the Smithwick Tribunal on Thursday "crystallises a view" that the Republic failed to "live-up to civilised responsibilities in terms of facing down terrorism that was operating out of their jurisdiction".
"The evidence today is interesting in casting a spotlight upon the very deep feeling that the Irish authorities failed to do all they could have done," said Mr Allister.
"That there was political intent in not doing all they could have done and that in consequence many innocent people doubtless died because it so facilitated the IRA campaign."
The tribunal went into private session on Thursday afternoon to hear "sensitive intelligence" information from a retired British Army officer.
Brigadier Ian Lisles was recalled to give further information to the tribunal.