Pat Finucane's family to challenge David Cameron decision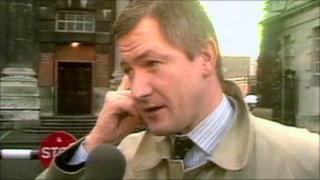 The family of murdered solicitor Pat Finucane are to legally challenge David Cameron's decision not to hold a public inquiry into the 1989 killing.
Mr Finucane was shot in his north Belfast home by the loyalist UFF.
The family wants a full independent inquiry into the murder, which they believe was promised by the British government.
However, in October the prime minister told them a review would be conducted by leading QC Desmond de Silva.
The Finucanes have now instructed their solicitors to take a judicial review challenging Mr Cameron's decision.
The legal papers will be lodged in the High Court in Belfast next week when a date for hearing will be sought.
'Cynically reneged'
On Wednesday, Mr Finucane's widow Geraldine said: "Not for the first time have we had to resort to legal proceedings to vindicate our legal rights.
"It is clear that the British government have cynically reneged on the commitment made at Weston Park (by previous prime minister Tony Blair).
"We take the view that the decision not to hold a public judicial inquiry is just another obstacle which we will have to overcome.
"We are determined to get to the truth surrounding my husband's murder. Our campaign will continue."
In 2004, the then Northern Ireland secretary of state Paul Murphy announced his intention to hold an inquiry under the new Inquiries Act.
The Finucane family are opposed to the probe being held under this legislation, which they say makes the inquiry accountable to the minister responsible, rather than to parliament.
The family believe there was collusion in the murder.