Eggs producers' plea to minister over new EU hen cages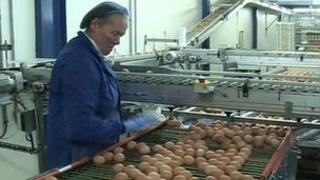 The agriculture minister has promised to protect the local industry from egg imports which fail to comply with new European rules on welfare of hens.
Michelle O'Neill was responding to a UUP motion in the assembly.
It claimed if other member states did not comply with the laying hens directive, it could impact negatively on local producers.
Farmers fear that the extra costs of new housing systems for hens could leave them at a financial disadvantage.
Egg imports from farms not complying with the regulations could be cheaper.
The EU welfare legislation has meant egg producers have had to install new colony cages which offer the birds more space as well as nesting, roosting and scratching areas.
While United Kingdom egg producers have invested £400m installing new colony systems to replace battery cages, as many as 13 EU countries will fail to meet the 1 January deadline to scrap the older cages.
One Northern Ireland egg producer who has spent £7m installing the new welfare-friendly accommodation for his hens reckons the EU directive will add about 5% to the cost of eggs in the shops.
The British Egg Industry Council claims that more than a third of EU cage egg production will break the new rules, with 84m hens still kept in illegal battery cage conditions next year.
Mrs O'Neill said she had assured the British Egg Industry Council that she would do whatever was legally possible to protect the industry in Northern Ireland.
She promised robust and effective enforcement strategy to help prevent non-compliant eggs arriving.