Former priest James Donaghy says allegations 'rubbish'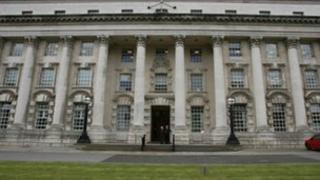 A former priest accused of indecently assaulting three men, including a fellow priest, has described the claims as "absolute rubbish".
James Martin Donaghy, 53, of Lady Wallace Drive, Lisburn, denies a total of 26 charges. He was giving evidence at his Belfast Crown Court trial.
As his defence lawyer outlined the claims of his three alleged victims, Mr Donaghy dismissed them one by one.
He suggested why they could not have happened for a variety of reasons.
These included a lack of space, or the presence of others.
"No, it did not happen... I emphatically deny that... I just find the whole thing bizarre," said Mr Donaghy who also accused fellow priest, Fr Patrick McCafferty, of telling him "horrific stories" about being abused by other priests, which had left him "gobsmacked".
Mr Donaghy will complete his direct evidence before the court on Tuesday, before he is cross-examined by the prosecution.