Apprentice Boys parade for Lundy's Day in Londonderry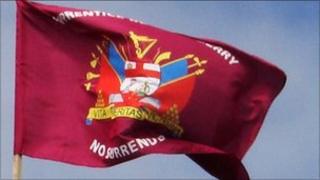 About 2,000 marchers and more than 20 bands have taken part in the annual Apprentice Boys Lundy's Day commemoration in Londonderry.
Earlier they paraded from the Memorial Hall to the Diamond, before attending a service in St Columb's Cathedral.
Later, an effigy of Lundy, the governor during the siege of Derry, was burned on Bishop Street.
The annual event commemorates the shutting of the city's gates against King James in 1688.
One person has been arrested for disorderly behaviour.