Men held liable for Omagh bomb denied permission to appeal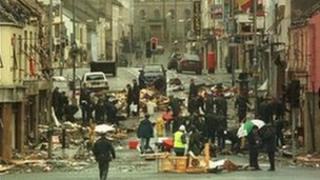 Two men held liable for the Omagh bombing were denied authorisation on Friday to appeal to the Supreme Court in London.
Senior judges in Belfast refused to grant leave for jailed Real IRA leader Michael McKevitt and fellow dissident republican Liam Campbell.
Judges also rejected an application by Seamus Daly who is now facing a civil retrial over the atrocity.
Applications by victims' relatives were also denied.
The relatives, who brought the landmark action, also want to go before the Supreme Court in an attempt to win the more punitive exemplary damages.
Lawyers for the defendants and plaintiffs are all now set to petition the Supreme Court directly in a bid to have their arguments heard.
Earlier this year both McKevitt and Campbell lost their challenges against being found responsible for atrocity which killed 29 people, including the mother of unborn twins.
No-one has been convicted of the Real IRA bomb attack which devastated the County Tyrone market town in August 1998.
McKevitt, a convicted Real IRA leader serving a 20-year jail sentence; Campbell, a farmer from County Louth currently fighting extradition to Lithuania over an alleged arms smuggling plot; Colm Murphy, a Dundalk-based builder and publican; and Mr Daly, from Culaville, County Monaghan, were all held liable for the bombing in a civil ruling delivered in June 2009.
Mr Justice Morgan, now Northern Ireland's Lord Chief Justice, ordered them to pay £1.6m in compensation.
In July this year appeals by Murphy and Daly against the verdict were upheld. Both men were ordered to face civil retrials.
Daly's legal team are seeking to challenge that outcome, claiming it would be unfair for him to have to defend the allegations all over again.
Alongside that, they are seeking a ruling that Campbell should be sued as an alleged representative of the Real IRA.
A third strand to their case is that convictions outside Northern Ireland, including McKevitt's in Dublin for directing terrorism, should be admissible in the action.
Applications were submitted to the Court of Appeal in Belfast for certificates to be granted on points of law of general public importance.
Lord Justice Higgins said: "We see no reason in this case to depart from the usual practice to refuse leave and leave it to the Supreme Court to consider whether they wish to entertain any of the points set out in applications before this court."