Report says IRA opened fire first in 1987 Loughgall attack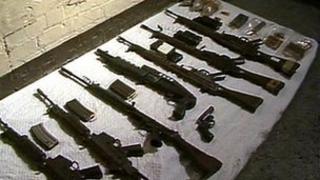 An investigation by the PSNI Historical Enquiries Team (HET) has found the SAS was within its rights to shoot dead eight IRA men during an attack on a County Armagh police station.
According to the Belfast Telegraph, the report has concluded the IRA unit opened fire first in the incident at Loughgall RUC station in 1987.
A civilian, Anthony Hughes, was also killed during the incident.
It had previously been believed that the SAS had fired first.
The shootings at Loughgall RUC station were among the most controversial of the Troubles.
Eight members of the IRA's so-called 'East Tyrone brigade' were shot dead by the SAS in a fierce gun battle at Loughgall on 8 May 1987.
They were killed as they approached the station with a 200lb bomb, its fuse lit, in the bucket of a hijacked digger.
The IRA men who died were the East Tyrone IRA 'Commander' Patrick Kelly, 32; Declan Arthurs, 21; Seamus Donnelly, 19; Michael Gormley, 25; Eugene Kelly, 25; James Lynagh, 31, Patrick McKearney, 32 and Gerard O'Callaghan, 29.
A civilian, Anthony Hughes, 36, was killed and his brother badly wounded when they were caught up in the crossfire.
The brother-in-law of Sinn Fein's Barry McElduff wife was one of those killed.
"I'm not going to disown Patrick Kelly or any of the other people killed at Loughall," he said.
"If it was a war then the British government are wrong - they have said all along it wasn't a war.
"They were bound by the laws of democracy, law enforcement and all of that, and if that's the case then they should have attempted to arrest them."
Accuracy questioned
Mairead Kelly said she accepted "fully" that her brother Patrick and the other "IRA men that night were armed".
However, she questioned the accuracy of the information given on Friday.
"The families are the point of contact with the HET regarding this review," she said.
"At no stage have the families been told that a report has been completed. As a matter of fact, I have been given assurances that this report is not completed and I have no hint about what is in the report."
Previously it was reported that the soldiers fired more than 600 bullets with the IRA men firing 70 shots.
According to the Belfast Telegraph, the HET has found that members of the IRA unit opened fire as they approached the police station.
The HET have refused to comment on the story.
Investigators are believed to have concluded that the IRA members could not have been arrested safely.
It is understood the full findings of the report are due to be released within weeks.
In 2001, the European Court of Human Rights ruled that the British government should pay £10,000 compensation to each of the families of the IRA members killed in the Loughgall incident.