Human trafficking in NI is 'a hidden crime'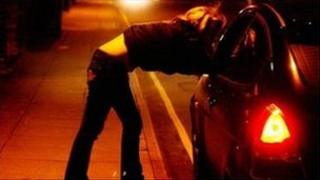 Human trafficking is a hidden crime in Northern Ireland, according to a senior member of the PSNI's organised crime branch.
Det Supt Philip Marshall told the monthly meeting of the policing board that Northern Ireland was only seeing the "tip of the iceberg".
In his presentation, Det Supt Marshall said 73 victims had been rescued since 2009.
Most of these were brought from abroad by criminal gangs.
BBC reporter Karen Atkinson said the the central theme of the presentation was to "challenge this myth about human exploitation here, including sex trafficking and to deal with the reality of it all".
Disturbing photographs
The board was shown a disturbing photograph of a door scratched by a person being held captive who was trying to escape.
"The door was bolted on the outside. On the inside you could see very visible deep scratches made by someone who was a human trafficking victim," our reporter said.
DUP policing board member Robin Newton said he recognised human trafficking was becoming much more prominent in Northern Ireland.
"The police have highlighted to us what the growing extent of this problem is," he said.
"I think our awareness level of it is becoming much greater and we need to build this into the policing board plan for the future."
A number of representatives from Barnardos and Amnesty International attended the policing board meeting.
Patricia Campbell, from Amnesty, said she was concerned to hear that 73 victims had been recovered in Northern Ireland over the last couple of years.
However, she said that she was pleased to hear police officers were dealing with the issue.
"I was very encouraged indeed to hear officers dealing with this subject say that their first priority is the protection of the women involved," she said.
Earlier this year the head of Amnesty International in Ireland, Patrick Corrigan criticised the PSNI claiming they could do more to help victims of sex trafficking.
Speaking in June, he said the police were letting victims down because they did not feel safe enough to go to court.