PSNI re-hires hundreds of former RUC officers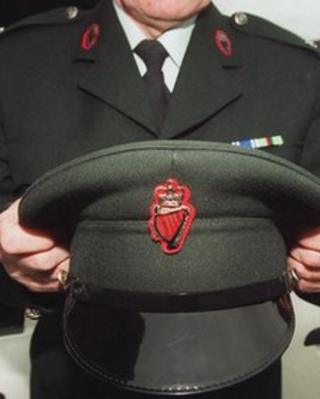 The government spending watchdog is to be asked to investigate the PSNI's policy of re-hiring former police officers.
Many of the former officers served in the RUC and retired with generous Patten redundancy packages.
The issues was raised on Thursday at the private meeting of the Policing Board.
After the meeting, it was revealed Sinn Fein has asked the Northern Ireland Audit Office to investigate the issue.
More than 4,000 RUC officers retired during the past 10 years with enhanced lump sum payments and pensions.
Large pay-outs were offered to encourage experienced officers to leave and make way for new recruits, half of whom were Catholic.
The total cost of the Patten redundancy scheme was almost £500m.
But hundreds of officers who retired were later re-employed by the PSNI in a variety of roles. They were re-hired after applying through a recruitment agency.
As they were temporary positions, the jobs were not subject to the 50-50 recruitment rule, which was introduced to increase the number of Catholic police officers.
The PSNI said it cannot provide details for the number of retired officers it has re-employed over the past 10 years.
In a statement to the BBC, the PSNI said it currently uses the services of 399 staff supplied by a recruitment agency.
Of those, 163 work in the crime operations department, which investigates serious crime and terrorist incidents and handles intelligence material.
The PSNI said it does not know how many of them are former police officers.
DUP members of the board said they can understand why the PSNI might have to recruit former officers.
Some critics have described the recruitment policy as a subversion of the Patten policing reforms.
The PSNI said it recruits all staff in accordance with current employment legislation.
Chief Constable Matt Baggott faced a series of questions on the policy of re-hiring retired officers at the private meeting.
He has promised to come back to the board with answers as soon as possible.
Sinn Fein's Gerry Kerry expressed his party's concerns with the accountability of these former officers.
"There is a concern about accountability, if people are being brought in, what status are they being brought in," he asked.
"They don't seem to be civilians - if they are working for an agency - does that mean to say that they are still accountable, first of all to the Chief Constable, but most importantly to the policing board, and also the ombudsman?"
DUP policing board member David McIlveen said he personally did not feel any rules had been broken.
"When it comes to employment law, we always have to make sure we don't overstep our mark, because there are certainly areas where we don't have any jurisdiction," he said.
"I'm confident that the police have operated within the rules of Patten."