DNA evidence 'admissible' in Massereene murder trial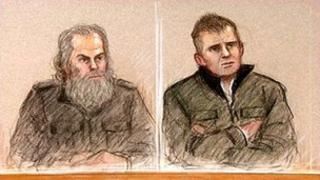 The judge in the Massereene Barracks murder trial has ruled that DNA evidence, that had been challenged by the defence, is admissible.
Colin Duffy and Brian Shivers deny murdering Sappers Patrick Azimkar, 21, from London and Mark Quinsey, 23, from Birmingham, at the Army base.
The solders were waiting for a pizza delivery in March 2009.
The DNA had been assessed by a new American system not previously used in the UK or Ireland.
It has also only been used rarely in the United States.
Dr Mark Perlin - the Crown's chief expert witness from the US - used a computer-based statistical method to assess DNA taken from items in the alleged getaway car.
He said that DNA on a seatbelt buckle was 5.91 trillion times more likely to have come from Colin Duffy than anyone else, and samples on a mobile phone were six billion times more likely to have come from Brian Shivers than any other person.
Defence had argued that Dr Perlin's evidence was unreliable because it had not been properly validated and also that he was set to gain financially if the judge allowed it in this case.
But the judge rejected this and said he was satisfied that Dr Perlin's evidence was credible and reliable.
Mr Justice Anthony Hart said: "I am satisfied that the stage has now been reached in the case of this system where it can be regarded as being reliable and acceptable and I am satisfied that Dr Perlin has given his evidence in a credible and reliable fashion.
"In the light of this conclusion, I can see no basis under which I could possibly exercise my discretion to exclude this evidence and I therefore admit it in evidence."
Both Mr Duffy and Mr Shivers deny any role in the murders.