Lord Mayor Niall O Donnghaile apologise for 'offence caused'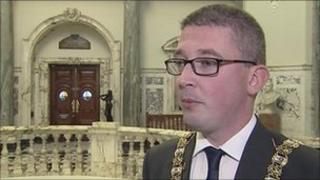 Belfast's lord mayor has told the BBC that if he has caused offence to anyone then he apologises for it.
Sinn Fein's Niall O Donnghaile has been criticised by unionists on the council for refusing to present a Duke of Edinburgh award to a teenage army cadet.
He also said he would be prepared to meet the teenage girl.
But unionists have called for a public apology or for Mr O Donnghaile to step down.
Unionist councillors said they were "appalled" by the lord mayor's actions and they will present their demand for a public apology to the full council on Thursday evening.
Mr O Donnghaile told the BBC: "If I have caused any offence to anyone, I apologise."
He later released a statement in which he said that he would never go out of his way to cause offence.
"I accept that my decision not to present an award to a British army cadet has caused genuine annoyance," he said.
"I apologise to anyone who has been offended and in particular the young woman involved and her family. That was clearly never my intention."
Mr O Donnghaile has also come under fire from a senior government minister.
Commons Leader Sir George Young said: "I very much hope we can move forward in a more consensual way than that gesture indicated."
Also speaking in the House of Commons, DUP MP Sammy Wilson called the lord mayor's refusal to present the award a "breathtaking display of bigotry".
However, Sinn Fein's Martin O Muilleor accused unionists of attempting to derail a progressive lord mayor.
"We won't be taking any lectures on inclusion from the DUP. These are the people who, for 100 years, would not have a Catholic lord mayor, never mind a Sinn Fein lord mayor," he said.
"Today, the DUP deputy lord mayor will not talk to the Sinn Fein lord mayor, never mind shake his hand. So whatever lessons we need to learn about outreach, and we all need to stretch ourselves in these matters, we won't be taking any lectures from the DUP."
'Petty bigotry'
The message to be delivered to council officials has been signed by members of the DUP, Ulster Unionists, PUP and independent unionist Frank McCoubrey.
It reads: "This council is appalled that the lord mayor politicised the Duke of Edinburgh Awards presentation in City Hall on 28 November by refusing to present an award to a young member of the Armed Cadet Forces; affirms that the civic position of lord mayor is about representing and respecting everyone within this city and calls on the lord mayor to publicly apologise for his actions and the gross offence caused.
"Failure to do so immediately would render his position untenable and he should resign."
In a joint statement from the DUP and UUP, Aldermen Robin Newton and David Brown said that the lord mayor had brought his office into "disrepute by his actions".
They said that "such petty bigotry has no place in modern society".
On Tuesday, Mr O Donnghaile said he would be happy to meet the cadet and her family to explain his decision. He said it was "nothing personal".
"At the last minute I was informed that one of the awards was to be presented to a representative of the Army Cadet Force," Mr O Donnghaile added.
"In order to avoid any unnecessary sensitivities to either party, it was arranged for the outgoing chairman of the organisation to present some of the certificates alongside me.
"I take my responsibilities as being a mayor for all very seriously."