Naked pictures of a former priest accused of sex abuse shown in court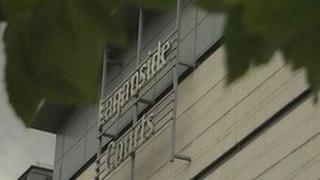 Naked pictures of a former priest accused of sex abuse were shown to the jury on Wednesday.
The five pictures, showing the back of 53-year-old James Martin Donaghy, were put into evidence by his defence team.
The third of his alleged victims completed his cross-examination at the Belfast Crown Court trial.
Mr Donaghy, from Lady Wallace Drive in Lisburn, denies a total of 26 charges involving the alleged sex abuse.
He also faces charges of indecent assault relating to three males between June 1983 and December 2000, including fellow priest, Fr Patrick McCafferty.
The 29-year-old witness giving evidence on Wednesday had trained to be a priest.
He claimed that while being abused he noticed that Fr Donaghy had distinguishing body marks. He was asked to identify these in photographs.
The defence lawyer said that following Mr Donaghy's police interviews in February last year he was medically examined, evidence of which will be given to the court.
The lawyer said the report would indicate that Mr Donaghy had "no distinguishing features or abnormalities".
He asked the witness: "Are you sure you are not imagining all this stuff?"
The 29-year-old denied this.
The man claimed in court on Tuesday that while he consented to some of the abuse, it was "forced free will".