Peter Hain meets Operation Tuleta police over hacking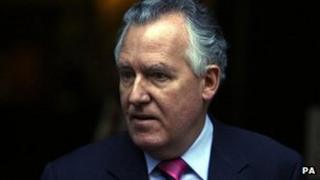 Former secretary of state for Northern Ireland Peter Hain has met with police over the alleged hacking of his computer.
The Guardian newspaper reported on Tuesday that any hacking may have been carried out by private detectives working for News International.
It said it was related to his role in Northern Ireland.
A spokesman for Mr Hain said he had discussed the matter with detectives from 'Operation Tuleta'.
It is looking into privacy intrusions not involving phone-hacking.
The spokesman said: "Earlier today Peter Hain met with Metropolitan police officers leading Operation Tuleta regarding an investigation into the alleged hacking of his official and personal computers during his time as secretary of state for Northern Ireland."
He said that Mr Hain had instructed a lawyer to act on his behalf.
"Given the serious and sensitive nature of this on-going investigation, it would not be appropriate to comment further at this stage," he added.
The Labour MP, now shadow Welsh secretary, was secretary of state for Northern Ireland from 2005 to 2007.
He was involved in peace negotiations and as a result would have had access to sensitive security data.
A News International spokeswoman has said the company was "co-operating fully with the police" on all investigations.