Irish writer Oscar Wilde's tomb is restored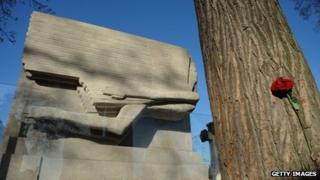 The restored tomb of Oscar Wilde, one of Ireland's most celebrated writers, has been unveiled at Pere-Lachaise cemetery in Paris.
The date was chosen to coincide with the 111th anniversary of Wilde's death.
The project was supported by both the French and Irish governments and had been coordinated by his grandson Merlin Holland.
British actor Rupert Everett and the writer's grandson were at Wednesday's event.
Oscar Wilde was a penniless exile when he died. Although he had experienced success for plays such as the ''Importance of Being Earnest'', his health nor his reputation had recovered from being jailed in England, for homosexuality, five years earlier.
His friends could only afford a sixth-class grave outside Paris when he died in 1900.
Wilde was later reinterred in Pere-Lachaise, the final resting place of writers, artists and composers.
His tomb, created by American scupltor Jacob Epstein, was unveiled in 1914.
The angel in flight monument became a magnet for tourists and admirers, who by the mid-1980s had covered it with lipstick kisses.
The Art Deco tomb has been carefully cleaned by French conservationists and has been encased in glass.