IRA victim's daughter Manya Dickinson confronts IRA bomber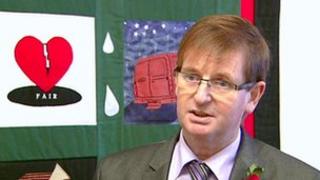 A woman who confronted a convicted IRA bomber about the death of her father said the meeting made her determined to fight for Troubles victims.
Manya Dickinson was visibly upset after confronting Patrick 'Mooch' Blair at the Smithwick Tribunal on Tuesday.
Her father, Kenneth Graham, was a contractor who supplied building materials to the security forces.
He died in an IRA car bomb on 27 April 1990. There is no suggestion that Blair was involved in Mr Graham's murder.
Mrs Dickinson, from Kilkeel, was 13 years old when her father was killed.
Speaking about her confrontation with Blair in Dublin, she said: "I was just asking him did he make the bomb that was planted underneath my father's car and he just laughed. That is what we have to put up with, him laughing. It is not good enough.
"Something has to be done for victims of IRA violence, the government has to listen and do something ... that man laughed in my face."
"I had to look him in the face and see what his reaction would be.
"Whenever he laughed, I just realised that the victims' fight has to go on."
Ms Dickinson said Blair's reaction was "the most horrendous thing", but she rejected any suggestion that arranging a private meeting when he would have known who she was, might have been different.
"He would have a speech ready and lies that he would have said. This was a one-off chance to do this.
"I am left feeling even more determined that they can't close the victims' sector down. The Stormont government are trying to close Fair (Families Acting For Innocent Victims) down and it is one of the only places there is that supports people like me."
Patrick Joseph Blair, also known as 'Mooch' Blair, has been giving evidence to the Smithwick Tribunal which is investigating allegations of Garda collusion in the IRA murders of two senior RUC officers.
Mrs Dickinson was accompanied in Dublin by Fair leader Willie Frazer.
The group, set up up to support victims of republican violence, has been asked by the European Union to return £350,000 in peace funds.
Funding from the Office of the First and Deputy First Minister (OFMDFM) has also been cut.
Mr Frazer has denied misspending cash and called the funding cut "political".
There have been three investigations into the activities of Fair.
One carried out by the PSNI has been completed and the Public Prosecution Service has said there will be no prosecution in relation to that inquiry.
Two other probes have been carried out by the EU and OFMDFM. The latter is ongoing.
Mr Frazer said that there was no chance of the EU getting its money back.
"I would go to jail before I would pay it back," he said.
"We have done nothing wrong. The money that we received in the first place was not sufficient to carry out the project that we had taken on.
"They have said to us a number of times that the money was not misspent."