Victim tells court that alleged priest abuse was 'forced free will'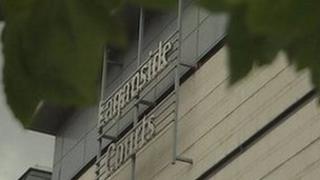 A man who claims he was sexually abused by a priest said while he consented to some abuse, it was "forced free will".
The trial of 53-year-old former priest, James Martin Donaghy, continued at Belfast Crown Court on Tuesday.
Mr Donaghy, from Lady Wallace Drive in Lisburn, denies a total of 26 charges involving the sex abuse.
Speaking about a London trip in October 1999 when he was 17, the now 29-year-old alleged victim said: "I did consent to it because I felt I had to consent".
"Whether or not you want to call that free will, which it's not, it's forced free will," he said.
Mr Donaghy faces charges of sex abuse and indecent assault of three males between June 1983 and December 2000.
His alleged victims are said to include Fr Patrick McCafferty, James Doherty and Tuesday's witness who was an alter boy and one-time trainee priest.
The 29-year-old has already told the jury how he was abused from around 1994 or 1995 when he was 14 or 15 years old until 2000 when he "put a stop to it" as he started his priest training.
Foot-fetish
The jury have heard allegations of foot-fetish based abuse, that Mr Donaghy professed his love for him "from the first time that he set eyes" on the boy and used the term "ice-cream" as a code for abuse.
The accused's lawyer put to him that being almost 18 years old, he was "keen to give consent to homosexual activity".
This was refuted by the alleged victim.
"I have put everything down on paper and I stand by it - I have not lied about any of it," he said.
The 29-year-old has alleged there were other incidents of alleged abuse while he was on trips to Cyprus, Lourdes and New York, either alone with Mr Donaghy or as part of a group.
He told the court he had not reported his allegations until October 2009, as he "wasn't ready to tell anybody".
"It was hard enough to deal with it myself. I came forward at that point because that was when I was ready to do so, when I had tackled my demons, not when the world was ready," he said.
The trial continues.