Massereene DNA tests by Dr Mark Perlin 'can be trusted'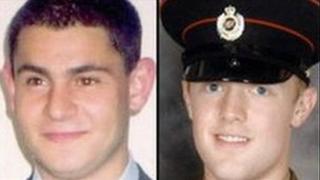 DNA evidence against two men accused of murdering two soldiers in Antrim in 2009 is reliable and proven, a prosecution barrister has said.
Colin Duffy and Brian Shivers deny murdering Sappers Patrick Azimkar, 21, from London and Mark Quinsey, 23, from Birmingham, at Massereene Army base.
The defence is seeking to have the evidence of US DNA expert Dr Mark Perlin ruled inadmissible.
However, a prosecution QC said the court could have confidence in it.
The court is hearing legal submissions before judge Mr Justice Anthony Hart rules on the admissibility of the forensic evidence.
Dr Perlin analysed items found in the getaway car and linked some of them to the two accused.
Prosecution QC Terence Mooney told the court: "It (the evidence) is admissible on the basis that it is derived from scientific evidence which is reliable, proven and advanced by an expert in the field.
"It is therefore evidence upon which the court can place confidence and give weight."
The judge is expected to rule on the admissibility of Dr Perlin's evidence later this week.
The two soldiers were shot dead as they collected pizzas outside the base in Antrim in March 2009, the night before they were due to leave for Afghanistan.
As well as the murder charges, Mr Duffy, 44, from Lurgan and Magherafelt man Mr Shivers, 46, both deny six charges of attempted murder and one of possession of guns and explosives.