Autumn statement: Northern Ireland will get extra £200m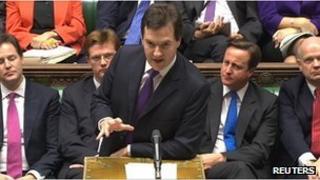 Northern Ireland will receive up to £200m more to spend on public services over the next three years as a result of measures in the chancellor's autumn statement.
The biggest boost will be £130m for infrastructure projects.
However, the chancellor also announced a review into regional pay for public sector employees.
That could ultimately lead to pay cuts for NI's 230,000 workers in the public sector.
They currently earn much more than the private sector average.
Northern Ireland's public sector workers currently receive a national rate of pay.
Those workers also now face real-term pay cuts with increases below inflation announced for 2013 to 2015.
People are also being asked to work longer, with plans to raise the state pension age to 67 brought forward to 2026.
Reacting to the chancellor's statement, Northern Ireland's finance minister Sammy Wilson said he does not expect there to be any compulsory redundancies in the country's public sector.
"We don't envisage that we will have compulsory redundancies," he said.
"We will have voluntary redundancies and the number of those voluntary redundancies will really depend upon where the decisions are made to cut the jobs, to quantify it is quite difficult."
Mr Wilson said he had "no doubt" that following Tuesday's announcement, ministers would be coming forward with projects which they believe "will enable them to save money in future budgets".
"Those are the things we have to look at fairly quickly," he added.
"There are a whole range of things that ministers will be bringing forward and it is a case of which ones do we believe will have the greatest value to the economy and help ministers to deliver on the savings they have to make on their budgets over the next number of years.
"The impact of today's decision will really depend on what projects we decide to put this money into.
"If we put it into building local housing it is likely to have a far bigger multiple employment effect than if we decided to put it into computer infrastructure for a particular service."
Northern Ireland Secretary of State Owen Paterson said the statement showed the government had a "clear grip" on the economy.
He said it also showed the government was committted to "getting rid of the deficit".
The shadow Secretary of State for Northern Ireland Vernon Coaker said some of the details from the statement were "very unclear".
He said people needed to know what the consequences were for the block grant in Northern Ireland and that the announcement about a regional pay review for public sector workers was a "bolt out of the blue".
Key infrastructure projects
The money for infrastructure projects is part of a £5bn UK-wide investment.
The £5bn is to be taken from current spending to help lever-in billions more to build railways, roads and bridges across the UK.
The chancellor announced that, where appropriate, the devolved administrations would receive money to invest in their key infrastructure priorities.
When Westminster increases spending, Northern Ireland's spending departments see a corresponding lift. When it cuts, they see a corresponding cut.
This is due to the Barnett formula which calculates the amount of public spending in the UK regions.
It is unclear at the moment how Northern Ireland's block grant will be affected by the investment in infrastructure.
One measure that is clear is that fuel duty will not rise in January as had initially been planned.