Smithwick Tribunal: Patrick 'Mooch' Blair denies Omagh role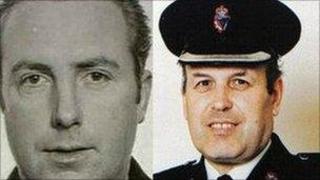 A convicted IRA bomb-maker has said claims that he was involved in the 1998 Omagh bombing were made by a "fantasist".
Patrick Joseph Blair, also known as 'Mooch' Blair, made the remarks in evidence to the Smithwick Tribunal.
The Dublin tribunal is investigating allegations of Garda collusion in the IRA murders of two senior RUC officers.
Blair admitted he had been actively involved as a "volunteer" in the south Down unit of the Provisional IRA.
He was named as a suspect in the Omagh bomb atrocity by Kevin Fulton, a Newry man who claims to have been a British army agent who was undercover in the IRA.
"I had no part in any shape or form in the Omagh bombing," Blair told the tribunal.
"Kevin Fulton is a liar and I would take a lie detector test in relation to the Omagh bomb, I would prefer if he took one as well."
"He said I made the bomb, it is a fantasy on his behalf," he said.
He also described claims of a 59-second phone call from a phone attributed to him to the Real IRA unit which planted the Omagh bomb as a "big coincidence".
The tribunal is investigating whether there was collusion in the murders of Chief Supt Harry Breen and Supt Bob Buchanan in March 1989.
They were shot dead near Jonesborough, south Armagh, shortly after meeting Irish police in Dundalk Garda station.
Blair is giving evidence to the tribunal because of suggestions, made by Mr Fulton, that he had met with a Garda officer serving in Dundalk station.
15-year sentence
In 1975, a court in Northern Ireland sentenced Blair to 15 years for attempted murder. He was released in 1982 and moved to Dundalk.
On the day of the RUC officers' murders Blair said he was in a pub and bookies and learned of the shootings later that evening.
Mary Laverty SC, for the tribunal, put it to Blair that Mr Fulton had visited his home on the evening of the murders along with an unnamed person who claimed "our friend was involved in the operation".
"That 'friend' was a garda who it is alleged assisted you on occasions?" she asked.
"No garda ever assisted me, or to my knowledge anyone," Blair replied.
He also denied that Mr Fulton was in his home that evening, describing him as a "gopher" when asked if Mr Fulton was active in the IRA.
"Kevin Fulton was unreliable, that was why he was not a volunteer," he said.
"The Garda were not pro-republican to my knowledge."
He also denied he was a member of the IRA unit that handed out punishment beatings or interrogated suspected informers.
When asked about "taunting" phonecalls made to RUC and army stations following IRA murders he said: "Psych ops happened on both sides."