Reports into clerical sex abuse to be published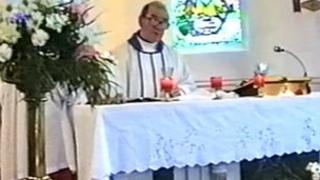 Six Catholic dioceses - including two in Northern Ireland - are preparing to publish reports into historical child abuse.
The review of events in the Diocese of Raphoe, in County Donegal has been much anticipated. It will be published on the diocesan website at 10:00 GMT.
Separate reviews will also be published in the dioceses of Derry and Dromore.
All six reports have been conducted by the National Board for Safeguarding Children in the Catholic Church.
The board helps to protect children in the Catholic Church from being abused by priests or anyone else. It was set up in the wake of various child abuse scandals.
The board is now reviewing every diocese in the country, examining what was done wrong in the past.
The Archdiocese of Tuam and the dioceses of Ardagh and Clonmacnoise, and Kilmore are expected to also publish reports on Wednesday.
Notorious paedophile
The most eagerly awaited report is that into the Diocese of Raphoe which covers most of County Donegal.
It is where one of Ireland's most notorious paedophile priests, Eugene Greene, abused more than 20 boys over 20 years.
The report will be officiated by Bishop Philip Boyce at the diocesan pastoral centre hall in Letterkenny at 11:30 GMT.
The Raphoe, Derry and Dromore reviews could track back as far as 1975, providing details of how these three dioceses have dealt with child abuse since the mid-1970s and how they deal with it now.
If they come up short on current child protection procedures, they will be told.
The retired Bishop of Derry, Seamus Hegarty, is expected to be in the spotlight following the publication.
He was bishop in Raphoe during the 1980s and early 90s while Eugene Greene was abusing boys in the diocese.
Questions are expected to arise over how Greene was managed.
'Covered-up'
Martin Gallagher was one of Greene's victims. He is now in his 40s but was a 12-year-old altar boy when the abuse started.
He is unconvinced the Raphoe Report will uncover the full truth.
"I don't believe it will be the truth because they have covered it up for years. Why would they tell the truth now?" he asked.
"They were forced into this audit - if they weren't, would they do this, is my question?"
Retired garda detective, Martin Ridge, was involved in the child abuse inquiry by police in Donegal and has since written a book about it.
He said that what he uncovered was "horrific" but getting to the truth was not made any easier by the reluctance of Church authorities to co-operate or for victims to come forward.
"We were hitting wave after wave of darkness and none of the victims wanted to go near a Garda station," he said.
"It would stall anyone what happened here."
He said he believed people had taken their lives and families had been broken due to abuse suffered.