Peter Hain warned his computer 'may have been hacked'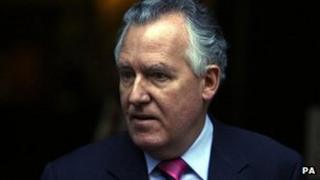 Former Northern Ireland Secretary Peter Hain is understood to have been warned that his computer may have been hacked.
Computers belonging to other senior civil servants and intelligence officers may also have been accessed.
According to the Guardian newspaper, it is thought any hacking may have been carried out by private detectives working for News International.
The Labour MP, now shadow Welsh secretary, was secretary of state for Northern Ireland from 2005 to 2007.
He was involved in peace negotiations and as a result would have had access to sensitive security data.
Mr Hain has declined to discuss the hacking claims, but a spokesman said: "This is a matter of national security and subject to a police investigation so it would not be appropriate to comment."
The investigation is part of Operation Tuleta, which is looking into privacy intrusions not involving phone-hacking.
Tuleta was launched over the summer after a "scoping exercise" into allegations surrounding the use of private detectives.
Officers working on the inquiry have been reporting to Deputy Assistant Commissioner Sue Akers, who heads the inquiry into mobile phone interceptions at the News of the World.
Police have already made a number of arrests in the phone-hacking investigation.
'Leaks'
Sinn Fein MLA Raymond McCartney said the revelations regarding the activities of the British press about phone hacking came "no surprise to us".
"Republicans have been the target of this type of activity - phone tapping, computer and other electronic bugging and listening devices - over the years," he said.
"Given the revelations about the activities of the British press recently, it is hardly surprising that British ministers and members of their covert agencies have also been the target of phone and computer hacking.
"It is ironic however, that given that Peter Hain while he was British secretary state here in the north had had no problem authorising this type of operation, that he is now the victim of the same style of illegal activity."
SDLP Foyle MP Mark Durkan, who worked with Mr Hain on the peace process during his period at Stormont, said: "Obviously there would have been times when there were leaks or suggestions in the papers.
"People would have said, that's coming from government and government sources would be saying it wasn't coming from them. I don't know if any of that features in it," he said.
"We don't know exactly what has happened here, we don't know what police think they may have found, but we do know that it varies very significantly from what Scotland Yard were saying previously, because previously Scotland Yard were insisting there wasn't any issue here.
"Now we know Scotland Yard are thinking that this activity may even have extended into trying to engage in illegal subterfuge, into the conduct of ministers by penetrating the machinery, the technology of government."
DUP deputy leader Nigel Dodds said the Leveson Inquiry "must not adjourn or finish until it comes to Northern Ireland Ireland and looks into who else has been hacked".
The North Belfast MP added "that until that work is done they will not have completed their work".
Secretary of State Owen Paterson said the alleged hacking of Mr Hain's computer was now the subject of a police inquiry.
He told the BBC "we are confident the NIO were not involved in this and that no confidential information could have been divulged".
Serious
Labour MP Tom Watson, a member of the Commons Culture, Media and Sport select committee which heard evidence of hacking by News International, said the allegations were extremely serious.
"The Dowler family hacking is what shocked the nation but the seriousness of hacking the phones of cabinet ministers who may have been party to national secrets regarding the security of the realm, protecting the lives of many thousands of people, is a very very serious allegation," Mr Watson said.
"It needs investigation and the intelligence services should take a look at it as well."
The former Northern Ireland Office (NIO) minister Baroness Angela Smith said she had great concerns over the reports.
"If there has been hacking into the e-mail system of the Secretary of State then that is a very serious criminal offence," she said.
Earlier this week, the Leveson inquiry into media ethics heard from a former Northern Ireland-based Army intelligence officer who says his computer was hacked.
Ian Hurst discussed a BBC Panorama programme in which he was shown emails he says were hacked from his computer on behalf of the News of the World.
Mr Hurst was a "handler" in Northern Ireland - running IRA informers for the Army.
He said a hacker had told him we was targeted because of his work in NI.
Mr Hurst said he served in covert units between 1980 and 1991 in Northern Ireland and his role was to recruit republican agents.
News International has said it is co-operating fully with the police on all investigations, while Scotland Yard says it would not provide a "running commentary" on the investigation.