NI agent handler Ian Hurst tells Leveson of computer hacking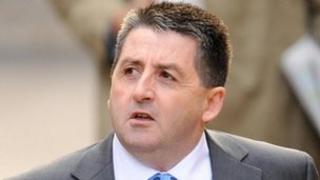 The Leveson inquiry into media ethics has been hearing from a former Northern Ireland-based Army intelligence officer who says his computer was hacked.
Ian Hurst discussed a BBC Panorama programme in which he was shown emails he says were hacked from his computer on behalf of the News of the World.
Mr Hurst was a "handler" in Northern Ireland - running IRA informers for the Army.
He said a hacker had told him we was targeted because of his work in NI.
Mr Hurst said he served in covert units between 1980 and 1991 in Northern Ireland and his role was to recruit republican agents.
He was told that the paper had employed a private detective, who in turn employed a "specialist hacker" who had worked with Mr Hurst in the intelligence services for three years.
Mr Hurst said that when he confronted the hacker, known as Mr X, armed with a secret camera, he was told: "I sent you an email, you opened it, and that's it; it's in...
"It's off now, it's gone. It shouldn't even be on; it shouldn't be on the hard drive."
Mr Hurst said documents seized in 2007 by the police showed the security on his computer had been compromised and information had been obtained from it.
However, the Metropolitan police did not tell him about the hacking until October 2011.
He said the Met "has let society down, they should be making a full disclosure".
'Chilling'
Also on Monday, the inquiry heard from campaigner Jane Winter of British-Irish Rights Watch.
She was told by police that "very confidential and sensitive" emails she sent to Mr Hurst had been hacked.
"From the point of view of my organisation we really do rely on trust and confidentiality," she said.
"When I first heard that these documents had been compromised, my first thought was that all the people who we help will lose confidence in us.
"That's a very chilling thought for our organisation. It is a real issue for us that this could dent our reputation for confidentiality."
Prime Minister David Cameron set up the Leveson Inquiry in July after it emerged that the NoW had hacked murdered schoolgirl Milly Dowler's phone after she had disappeared. The paper was shut down within weeks.