Massereene DNA tests by Dr Mark Perlin 'unreliable' - defence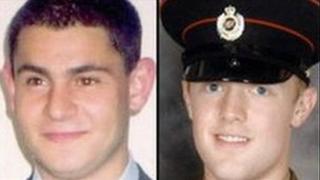 The trial of two men accused of murdering two soldiers in Antrim in 2009 has heard defence arguments to have DNA evidence ruled inadmissible.
Colin Duffy and Brian Shivers deny murdering Sappers Patrick Azimkar, 21, from London and Mark Quinsey, 23, from Birmingham, at Massereene Army base.
Dr Mark Perlin analysed DNA evidence found in the getaway car.
However, Mr Duffy's barrister has argued that the US expert's evidence could not be relied upon.
He claimed Dr Perlin had a conflict of interest in that he was set to gain financially if his system of analysis was accepted in the case.
He also alleged that the method had not proved sufficiently reliable.
Dr Perlin had previously told the court that DNA on the tip of a latex glove found in the getaway car was 5.91 trillion times more likely to have come from Mr Duffy than anyone else.
A defence barrister for Mr Shivers described Dr Perlin as "a man on a mission" to promote his method.
He said Dr Perlin lacked all impartiality and showed disdain for anyone who disagreed with his system.
Dr Perlin has said his computer-based DNA analysis system showed that samples taken from a mobile phone were more than six billion times more likely to have come from Mr Shivers than any other person.
The court has been adjourned until Tuesday morning when the barrister for the crown will respond to criticism of its witness.
The judge is expected to rule on the admissibility of Dr Perlin's evidence later this week.
The two soldiers were shot dead as they collected pizzas outside the base in Antrim in March 2009.
Mr Duffy, 44, from Lurgan and Magherafelt man Mr Shivers, 46, both deny six charges of attempted murder and one of possession of guns and explosives.