Smithwick Tribunal: Michael McKevitt denies tip-off claim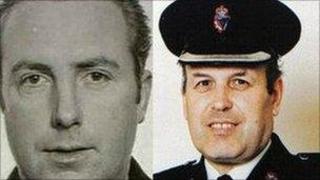 A leader of the Real IRA, who was found liable for the Omagh bombing in 1998, has denied receiving a tip-off from a member of the Garda ahead of a search.
Michael McKevitt was questioned as part of an inquiry into the murders of two senior Royal Ulster Constabulary officers on the Irish border in 1989.
The Smithwick tribunal is investigating claims of collusion in those murders.
McKevitt told the tribunal that he "had never got a tip-off from anyone".
Ch Supt Harry Breen and Supt Bob Buchanan died in an IRA ambush minutes after leaving a Garda police meeting.
That meeting took place at Dundalk Garda Station on 20 March 1989.
It was alleged in subsequent years that a policeman serving in the Irish Republic had leaked details of their movements to the IRA.
The tribunal had previously been told that McKevitt waswarned about a Garda search of premises he owned in County Louth.
'Get rid of package'
The warrant for the search had been issued late at night and the person who tipped off McKevitt allegedly told him: "You are going to have visitors - get rid of the package."
However, McKevitt denied this, or any other tip-off from a member of the Garda, had ever happened.
He also denied having "friendly contact" with any officer.
Counsel for the tribunal asked McKevitt if he had, "would you tell me?"
He replied: "Here, under oath, I would probably have to."
McKevitt was the Provisional IRA's so-called 'quartermaster' until the late 1990s, which meant he looked after its guns, explosives and ammunition dumps.
He split from the mainstream IRA when it decided to call its ceasefire.
He is currently serving a 20-year sentence in Portlaoise Prison for directing Real IRA terrorism