New website celebrates Northern Ireland's Olympic achievements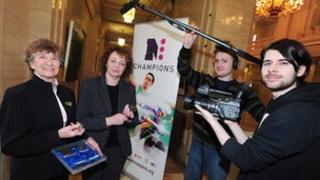 Northern Ireland's achievements at the Olympic games are celebrated in a new website which has been launched this week.
The NI Champions portal has been produced by Culture Northern Ireland and profiles the country's sporting heroes through videos, written features and pictures.
1908 sprint champion Bobby Kerr and 2002 ice-hockey gold medal winner Geraldine Heaney, who both represented Canada, are among the competitors listed on the website which is supported by the Department of Culture, Arts and Leisure.
A host of Northern Ireland Olympians such as pentathlete Dame Mary Peters, boxer John McNally and bobsleigher Robin Dixon (Lord Glentoran) can also be traced on an interactive timeline.
The project has provided an opportunity for creative industry students from Belfast and Londonderry to showcase their talents, as they shot and edited the video packages.
Lee Henry of Culture Northern Ireland said the aim of the website was to provide a rolling archive charting the country's success at the games. Participants in next year's Olympics and Paralympics also feature.
"The feedback so far has been really good and positive," Mr Henry said.
"The website will be up indefinitely and will be a resource for sports fans and those with an interest in the Olympics.
"The athletes have been passionate about it, some of them feel they have been forgotten and this is a way of getting their stories out there.
"Students from the North-West Regional College shot and edited films last year and we have students from Belfast Metropolitan College in this week doing the same.
"We want to grow it, there will be another session with students from the North-West Regional College in February, when we hope to put up another batch of six to eight videos before the games."
Northern Ireland Sports Minister Caral Ni Chuilin welcomed the initiative and said it aimed "to inspire and reinforce belief in the ability of local people to compete and succeed on the world stage".
"The NI Champions website is an informative and inspirational celebration of athletes from the north who have competed in the modern Olympics and Paralympics," she said.
"Records go back to 1908 and the website will continue to find and tell the stories of our sporting heroes.
"As well as providing information about athletes past and present, the site also profiles the Cultural Olympiad and the link between sport and the arts which is featuring very prominently during the 2012 Games."