Details of £50m small businesses loan scheme released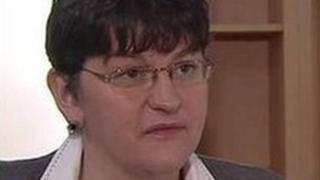 The Department of Enterprise has released details of a £50m loans scheme for Northern Ireland small businesses.
The Growth Loan Fund was announced in October by Invest NI as a way to tackle the difficulties small firms are having in getting bank finance.
The fund will lend to firms in the manufacturing or tradable services sector only, meaning retailers and farmers are not eligible.
The loans will be for between £50,000 and £500,000 and mainly unsecured.
That means firms will not have to put up collateral.
However, as unsecured lending is riskier than secured lending, that will be reflected in the interest rate.
The department said: "Interest rates charged will reflect the risk involved in each case.
"Loans will typically have an interest rate that is in excess of prevailing bank rates, reflecting the unsecured nature of the finance provided."
Businesses applying will also have to meet the EU definition of a Small or Medium Enterprise (SME).
Those applying for the loans will have to submit a business plan that can show sales and profitability growth, or strong growth potential.
Businesses that export and aim to further expand sales in international markets will be a key target of the fund.
The department said they are the firms that have the potential to contribute most to Northern Ireland's economic growth.
Half the money will come from Invest NI, via the European Regional Development Fund (ERDF). The ERDF is an EU programme to to stimulate economic development in the least prosperous regions of the union.
NILGOSC, which runs the Local Government Pension Scheme for Northern Ireland, has agreed in principle to provide the other £25m.
The department said the fund will be administered will be managed on "a fully commercial basis" by a FSA authorised fund manager who will be appointed through the public procurement process.
Enterprise Minister Arlene Foster said: "Access to finance is a major concern for local businesses, particularly small developing businesses with little in the way of tangible assets to pledge as security.
"The Growth Loan Fund is just one of the practical actions that my department, through Invest NI is taking forward to stimulate and encourage growth in these challenging economic times.
"Many local SME companies are viewed as high risk and they can find it difficult to secure much needed investment despite their growth potential.
"This new fund will not only safeguard existing jobs but also allow small businesses to expand and create new jobs, potentially contributing over £60m per annum to the local economy."