Nama releases only 2% of total euro pot for NI development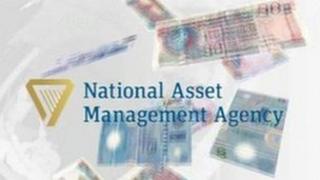 The Republic of Ireland's National Asset Management Agency (Nama) has released just 20m euros for development in Northern Ireland, out of a total 900m euros pot.
The figures were revealed in a BBC interview by Nama chairman Frank Daly.
When Nama takes control of a development it dictates whether work continues or stops.
Developers must also submit a business plan for approval.
Nama has control of a property portfolio in Northern Ireland with a nominal value of £3.35bn.
Mr Daly said the reason the 20m figure - just over 2% of the total - seemed small was because the biggest slice of the Northern Ireland holdings was in land, and the developers here had not yet finalised their business plans.
"Sixty per cent of our portfolio in Northern Ireland is development land and there isn't really very much demand anywhere for working capital for development land right now," he said.
Mr Daly said the business plans from the smaller debtors were currently being assessed and that demands on capital investment were only now being worked through.
"I do expect that figure to increase and if anybody comes to us with a viable proposition...we are very, very open to that," he said.
The figures highlight the political sensitivity of Nama's involvement in Northern Ireland. Finance Minister Sammy Wilson has called for the current Stormont advisory committee to Nama to be replaced by a full seat on the Nama board.
There is currently a vacancy on the board. Irish Finance Minister Michael Noonan has said the matter is under review.