Reform 'necessary to save NHS' says Edwin Poots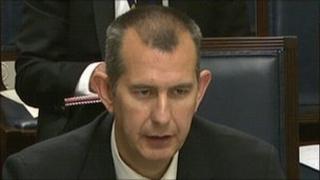 Health Minister Edwin Poots has said he is prepared to take unpopular decisions to defend the future of the NHS in Northern Ireland.
In the run-up to the publication of a major review of healthcare, he said: "If reform is needed, it's needed.
"If we do not reform a system where there is massive growth in demand and moderate growth in income, then the system will grind to a halt," he said.
The Health Review is due to be handed to the health minister next week.
Mr Poots added that without reform: "We won't have the health service as we know it,"
The health minister said changes in the health service were not going to be easy and would prove "very challenging and very difficult".
The review is likely to recommend that GPs' surgeries provide more of the kinds of treatment currently offered in hospitals.
It will also look at services for elderly people and suggest ways in which more of their needs can be met in their own homes.
Mr Poots said the review was not about closing hospitals down but about restructuring, so that fewer hospitals would offer more complicated medical procedures.