Son of Sam McLarnon 'not told of legal limbo'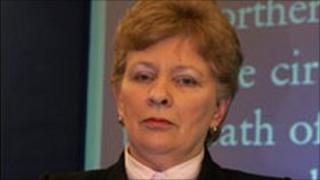 The son of a man killed by an RUC officer has disputed the former police ombudsman's claims that families were told if controversial Troubles killings could not be re-investigated.
Nearly 50 cases where RUC officers were responsible for deaths were sent to the police ombudsman four years ago.
No new investigations have happened because of legal considerations.
Baroness O'Loan said families were told of this, although Sam McLarnon claims this is not true.
His father, also called Sam McLarnon, was believed to have been shot dead by a police officer in August 1969.
He said that the first time he heard that an investigation into his father's murder had not yet started, was on Thursday.
Mr McLarnon said he has now taken legal advice but "does not know where to go from here".
Aware of legal issues
Baroness O'Loan said she was aware of the legal issues during her time as ombudsman.
"If an allegation was more than 12 months old it could not be investigated unless there was no previous complaint or there was a previous complaint but there was new evidence, or the matters which were previously investigated were different from those which had to be investigated," she explained.
She said families were told if a particular case would not be considered.
"If we couldn't investigate we would explain why we couldn't investigate," she said.
No new investigations have taken place since the cases were passed onto the police ombudsman.
The Historical Enquiries Team (HET) passed the files on 49 such cases onto European law which states investigations into state killings must be fully independent.
As the HET is accountable to the chief constable, it cannot investigate killings by police officers.
However, the ombudsman's office says domestic legislation means it cannot conduct fresh investigations.
Justice committee chairperson, the DUP's Paul Givan, said the fact that not all cases were being investigated took him "by surprise".
Mr Givan said although he agreed there was a need for a change in legislation he would not be signing up to anything that "would lead to a witch hunt of the RUC".
'Legislative anomaly'
Meanwhile, Sinn Fein's Gerry Kelly has called for new legislation to address the "legal limbo" which exists.
He said his party also only learned of the legal issues which prevented the cases being re-investigated on Thursday night.
"If this is a legislative anomaly, let's get it fixed quickly and it should have been fixed before now," he said.
The Sinn Fein policing and justice spokesman said he would be in touch with Justice Minister David Ford to see if the legal status of the cases could be rectified.
He said "more regrettable damage" had been done to the ombudsman's office and reiterated calls for Police Ombudsman Al Hutchinson to go immediately.
Mr Hutchinson does intend to stand down by the end of January 2012.
"You have to wonder why all of a sudden it has come up now. Is it some sort of retrospective explanation for not doing the job properly," Mr Kelly added.
Paul O'Connor from the Pat Finucane centre also said there was a "complete lack of clarity" and questioned why it had taken four years for this to be communicated.
"A situation where no other family needs to pass this requirement for fresh evidence and have their case reviewed by the HET, except for these families, is untenable," he said.
The assembly will debate the issue on Monday.