Homeless charity sees increase in young women using services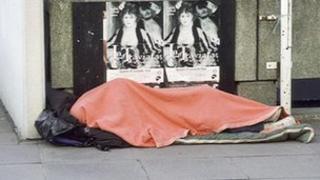 The number of young women accessing services for homelessness has increased, a charity has said.
The Welcome Organisation helps rough sleepers and other homeless people who often have addiction issues or mental health problems.
It said it is coming under increasing pressure to help more people, with less money.
Director of homelessness services Sandra Moore, said the number of new people using the charity is worrying.
"We have seen 855 persons in the first 10 months of the year," she said
"350 of those are people, who in all of our records have never appeared before, and that is a concern for ourselves that there are an awful lot of what appear to us to be newly homeless in crisis."