James Donaghy said apology was for bullying not abuse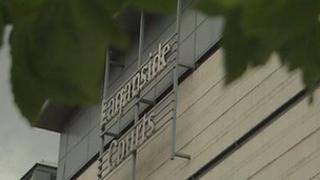 A former priest accused of sexually and indecently assaulting a colleague, admitted in police interviews that he apologised to the alleged victim.
However, James Donaghy, 53, said he did so because Fr Patrick McCafferty believed he had bullied him, not sexually abused him.
"I did ask for forgiveness, in that I had bullied him. I apologised and we prayed," Mr Donaghy told police.
Mr Donaghy, of Lady Wallace Drive, Lisburn, denies a total of 26 charges.
The offences were allegedly carried out against three males, including Father McCafferty, between June 1983 and December 2000.
In transcripts of police interviews read out at Belfast Crown Court, the former parish priest said he "categorically denied" abusing Fr McCafferty.
Fr McCafferty claims the abuse first began when both were training for the priesthood in Wexford, but continued after their separate ordinations.
Psychosexual therapy
The priest also claimed that he later confronted Mr Donaghy about the sex abuse, and that the accused had apologised and asked for his forgiveness, telling him he had since undergone psychosexual therapy.
Mr Donaghy denied telling Fr McCafferty he had undergone any treatment.
He also told detectives they could check with his doctor to ascertain if he had ever been sent for any psychosexual treatments.
Fr McCafferty has claimed that Mr Donaghy abused him in his uncle's one-bedroomed flat in Lisburn.
Mr Donaghy, in denying the allegation, said in the night in question they both had spent in the night in separate rooms in a local convent, and that he never had an uncle who ever owned a flat in Lisburn.
Next week it is expected that a former trainee priest will give evidence concerning abuse he claims he suffered.