Alasdair McDonnell: Concerns over planned welfare reforms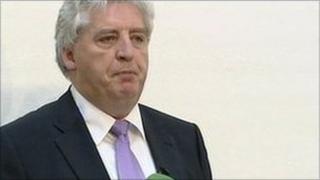 The SDLP leader has told the Secretary of State that Northern Ireland must be made a special case under the government's benefit reforms.
Alasdair McDonnell expressed his "grave concerns" over the welfare reform legislation to Owen Paterson at Hillsborough Castle on Thursday.
He said Northern Ireland has to be treated differently to the rest of the UK.
Otherwise, it is the vulnerable in society who will suffer.
"We are worried that many people with illnesses who are simply unable to work are going to have their incapacity benefit removed," said the SDLP leader.
"Working families are going to struggle even more to make ends meet with the stripping back of child tax credits and that the move to universal credit for those on benefits will increase poverty, debt and homelessness.
"I told the Secretary of State that Northern Ireland must be treated differently to other parts of the UK, in law and practice, when it comes to welfare reform as we have historical levels of disadvantage and many people with conflict related disabilities.
"Our problem is a lack of work, not a lack of work ethic as alleged by the British government and others supporting the Welfare Reform Bill."