Man stabbed in Belfast 'mobile phone row'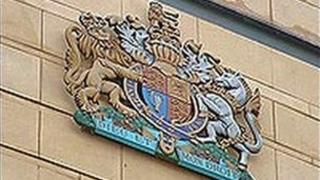 A man was stabbed near the heart in a dispute over a mobile phone theft, Belfast Magistrates Court has heard.
He was also allegedly beaten by two men who went into his east Belfast home on Tuesday.
The victim suffered cuts and bruises as well as a knife wound to the chest during the assault at Edith Street.
Frederick Samuel Doak, 58, of Bests Hill, and William Christopher Cuthbert, 23, of Trillick Court, in Belfast, both face attempted murder charges.
The pair were also jointly accused on Thursday of possession of an offensive weapon, namely a knife, with intent.
A detective constable said she could connect both defendants to the alleged offences.
'Very violent'
Mr Cuthbert did not seek bail and was remanded in custody until next month.
The officer opposed Doak's bid to be released, claiming there was strong evidence to link him to a "very violent" incident.
She said the victim had been stabbed close to the heart during the attack.
Expressing fears about possible further offences or interference with witnesses, the detective told the court: "This incident is alleged to have occurred over the theft of a mobile phone.
"We have concerns about what steps he would go to over the more serious charge of attempted murder."
'Victim punched'
She confirmed that Doak has provided an alibi but claimed there was evidence that he was in the flat at the time of the attack.
Defence lawyer Conor Downey said Mr Doak's only alleged involvement was to punch the victim.
The solicitor said: "At the height of the prosecution case, there is no allegation that he had used the knife in any shape or form against the injured party.
"He has stated these knives were brought as a present. He had one of them, the other is owned by a family member who lives in the flat below.
"He denies being in the flat at the particular time the incident took place."
However, District Judge Fiona Bagnall said there was a risk of re-offending and potential intimidation.
Doak was also remanded in custody to appear again by video link on 22 December.