David McIlwaine and Andrew Robb killer Stephen Brown loses appeal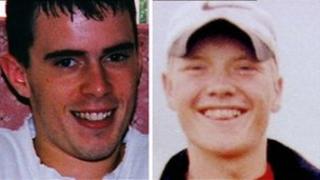 The Court of Appeal has dismissed an appeal by a man against his 30-year minimum jail tariff for the murders of two teenagers in County Armagh.
Stephen Leslie Brown, 30, was found guilty in 2009 of the murders of David McIlwaine and Andrew Robb.
The victims' mutilated bodies were found on a country road near Tandragee, in February 2000.
The lord chief justice said the evidence showed Brown took pleasure in causing injury to the victims.
He said both had suffered multiple and extensive injuries.
Mr McIlwaine, 18, and Mr Robb, 19, - who had no paramilitary connections - were murdered after Mr Robb allegedly made derogatory remarks about UVF commander Richard Jameson who had been shot dead two weeks previously.
Brown, also known as Stephen Revels, was convicted after Mark Burcombe, who admitted a lesser charge over the murders, testified against him.
Mr Burcombe's evidence identified another man - Noel Dillon, who has since killed himself - as being involved with Brown in the murders.
On Thursday, Lord Chief Justice Sir Declan Morgan said: "These were planned murders involving the taking of these teenage boys to an isolated part of the countryside where they would be rendered vulnerable to attack.
"Multiple injuries were inflicted on each of them and sadistic and gratuitous violence was also used.
"Brown and Dillon were armed in advance and carried out multiple murders. Brown demonstrated triumphalism after these killings.
"He made significant efforts to escape detection and successfully managed to hide the murder weapon which has never been found."
He added "He threatened Burcombe that he would cut his throat if he disclosed what had occurred and then subsequently sought to persuade him to change his evidence when they were in a prison van coming from Newry Courthouse."