Cookstown firm due in court over playground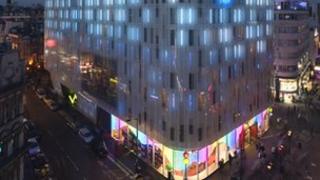 A Cookstown property firm is facing legal action from an English council over its alleged failure to build a children's playground.
Brighton & Hove City Council say McAleer and Rushe should have built the facility as part of a development deal.
McAleer and Rushe said they are committed to building the playground once some issues around the site are resolved.
The case is due to be heard at Brighton Magistrates Court on 8 December.
The council served the firm with an enforcement notice in April giving it six months to do the work but say it has not yet begun.
The council argues that the building of the playground was a condition of getting planning permission for a nearby hotel development.
Councillor Phelim MacCafferty, chair of planning at the city council, said: "We are extremely disappointed that the developers have continued to ignore requests to provide this much needed facility for families living in the area.
"Failing to comply with the enforcement notice has left us with no alternative but to take legal action."
Council meeting
He added that the play area was part of the original development brief for the site near Brighton Station in order to provide an element of community infrastructure.
A spokesman for McAleer and Rushe told the BBC that the proposed playground is next to a site where they plan to develop an office block.
He said that if they built the park first it would then have to be closed or even dug up while building work on the office took place.
He said that in those circumstances local residents would be inconvenienced and resources would be wasted.
He added that the firm would be meeting with the council to emphasis that they are committed to providing the play area and could be on site as early as the first quarter of next year.
McAleer and Rushe is one of Northern Ireland's biggest developers.
In recent years its focus has been on cities in England. It is currently planning developments in Sheffield, Leeds and Newcastle.
Earlier this year it confirmed that some of its bank loans had been taken over by the Irish government's National Asset Management Agency (Nama).
The firm said that some of its £61m in borrowings are now owed to Nama.