Hearing set over Sean Quinn bankruptcy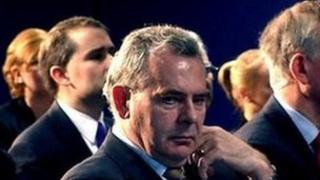 An attempt by the Irish Bank Resolution Corporation to annul Sean Quinn's bankruptcy will be the subject of a two-day hearing in Belfast in December.
The bank claims full disclosure was not made when the former billionaire businessman declared himself bankrupt.
A High Court judge was also told more information was required on passports held by Mr Quinn and his tax affairs on both sides of the Irish border.
Mr Justice Deeny said Mr Quinn should be ready to give evidence himself.
In April, Mr Quinn lost control of his insurance and manufacturing businesses and the former Anglo-Irish bank, now called IBRC, has been pursuing him through the courts to retrieve the debt he built up through a disastrous investment in the bank's shares.
The bank says Mr Quinn owes it more than 2bn euros (£1.73bn).
Earlier this week, Mr Quinn was ordered by a court in Dublin to pay 416m euros (£358m) to the bank.
By declaring himself bankrupt in Northern Ireland two weeks ago, Mr Quinn only has to wait a year before going back into business - rather than 12 years in the Republic of Ireland.
He said he brought the application north of the border because he was born, reared and worked all his life in County Fermanagh.
The IBRC says the Quinn family are attempting to put assets beyond their reach and is pursuing legal action in a number of countries.
It has disputed Mr Quinn's claim that he is resident in Northern Ireland.
Mr Quinn's barrister revealed it would take several weeks to reply to the bankruptcy affadavit.
Paul McLaughlin urged the court to grant him time to be able to properly explain the corporate background and where his client's companies are run from.
He added: "We do not accept the court was not given the whole picture."
However, a barrister for IBRC - the former Anglo Irish Bank - said it was a matter of considerable urgency and the papers should take at most 10 days to prepare.
The hearing will take place at Belfast High Court on 19 and 20 December.
'Injustice'
Meanwhile, Mr Quinn has spoken of his feeling of "injustice".
The Fermanagh tycoon told his local newspaper, The Impartial Reporter, that he is determined to fight on and rebuild his family's reputation.
Mr Quinn said he intends to write a "tell all" book about his business empire being stripped from his control.
The Impartial Reporter quotes him saying: "I feel what happened to the family and the area over the last two years shouldn't have happened.
"We were a very successful company and feel very hard done by.
"We are determined to move on and rebuild the family's reputation over the next five to ten years, and try to undo some of the injustices we feel have been done to us."
He said he has received thousands of letters of support from well-wishers in Fermanagh.
He says that providing jobs in the county gave him a "great sense of pride" - "it's what I got a kick out of".
Mr Quinn was reputedly worth £3.7bn (4.30bn euros) at the height of his success, but he portrays himself as a home bird.
Local pub and wellington boots
"I just stayed around home; took it easy with the local lads, went to the local pub and put the wellington boots on to walk around the mountains. That's the way I operated and I have no regrets on that, but I am paying the price for it now," he said.
He said the image of his companies as unprofitable is a misconception.
"I realise the majority of people in Ireland feel that I have messed up in recent years in relation to Anglo Irish Bank, and I understand that.
"What I cannot accept is the image that is currently being portrayed that our group of companies have been unprofitable.
"I think that is a grave insult to all the dedicated management and staff who have helped grow the business to the success it once was."
He also told the Impartial Reporter: "I think you will see more of the Quinns in the next 10 years."