Northern Ireland GP surgeries to 'widen services'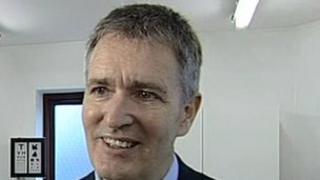 A major review of the health service in NI is likely to recommend that GPs' surgeries should provide more services.
That could mean patients who currently have to go to hospital for a treatment would instead get it from a specialist at their local health centre.
A large part of the review is expected to focus on how services can be moved from hospitals into the community.
Some health centres already provide a range of services and that model is expected to be extended.
One of the experts undertaking the review is Dr Ian Rutter, a GP based in Yorkshire.
He is a former clinical advisor to the UK's Department of Health.
Dr Rutter said a greater focus is needed on what matters to patients, encouraging GPs to develop specialisms and doing as much as possible to treat people in the community.
BBC NI travelled to Dr Rutter's practice based in Shipley, outside Bradford.
From the outside, the practice is similar to many local GP surgeries, but inside, patients can be seen by dermatology, cardiovascular even geriatric specialists.
"We are able to offer patients care nearer to their home which they prefer," he said.
"We offer care for all sorts of problems that don't require hospital care but do need hospital expertise."
'No reason'
"By bringing specialists into the practice we are now able to offer a very extensive range of services beyond which a normal practice normally offers."
He sees no reason why his model cannot be applied to Northern Ireland.
"It would take 2-3 years to gain the necessary expertise for some GPs to be doing this work, but you could easily start to move specialists into community settings," Dr Rutter said.
"You have some fantastic buildings in Northern Ireland - some that would be ideal for this sort of work.
"I don't think GPs will have to work any longer hours, I do think they're going to enjoy working in an environment like this because you are not endlessly dealing with people who keep coming back because the system is failing them.
"Instead you are in a situation of solving the problem the first time and that is immensely rewarding."
Dr Rutter said he was aware that funding may not be available to make the changes, but he said resources could be used in a different way.
Up for change
"Throwing more money at this won't solve the problem - it's how you use the system to best maximise health care."
The BMA met those carrying out the health review.
According to Dr Tom Black, chairman NI General Practitioners Committee, doctors are up for change.
When asked if they would be looking for extra money he said: "I don't think there are extra funds within the health service.
"The GPs recognise the work has to be done. Services can't be run the way they have been and we are going to have to work more efficiently, in a different way integrating with hospital services."
Already steps have been taken locally in the direction Dr Rutter would like. At Holywood Arches in east Belfast, speciality services have begun creeping in.
Dr Alan Stout runs the ENT clinic.
"The ENT clinic started three months ago. We look at all the hospital referrals from east Belfast and deal with the ones we can in the primary care clinic," he said.
"Figures are positive. We can deal with around 50% of the overall number, the rest will be sent to hospital. Waiting lists are certainly shorter."
The Health Review, led by John Compton, is due to be handed to the health minister at the end of this month.
Edwin Poots is expected to address the assembly before the Christmas recess.
With a major review of Northern Ireland's health service due to be published later this month, BBC Health Correspondent Marie Louise Connolly will be looking at the big issues it will tackle each night this week on BBC Newsline at 18:30 GMT on BBC One.