Massereene trial: US expert's DNA evidence challenged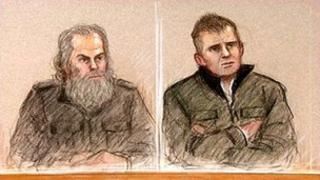 The trial of two men accused of murdering two soldiers at Masserene barracks in 2009 has been hearing from a DNA expert called by the defence.
Colin Duffy and Brian Shivers deny murdering Sappers Patrick Azimkar, 21, from London and Mark Quinsey, 23, from Birmingham, at the Antrim Army base.
Professor Laurence Mueller challenged the evidence of crown witness and US DNA expert Dr Mark Perlin.
The defence is seeking to have Dr Perlin's evidence ruled inadmissible.
Dr Perlin previously testified that samples on the tip of a latex glove found in the getaway car were 5.91 trillion times more likely to have come from Mr Duffy than anyone else.
He also said samples on a mobile phone were six billion times more likely to match Mr Shivers that anyone else.
However, Professor Mueller said Dr Perlin's computer-based method had not been properly tested and validated and his evidence could not be relied on.
The two soldiers were shot dead as they collected pizzas outside the base in Antrim.
Mr Duffy, 44, from Lurgan and Magherafelt man Mr Shivers, 46, both deny six charges of attempted murder and one of possession of guns and explosives.
The trial continues.