£25,000 reward offered over Crossgar Halloween kidnap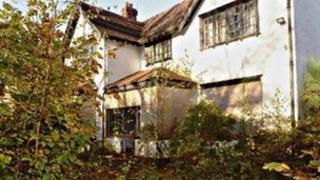 A reward of up to £25,000 is being offered for information leading to the conviction of the gang behind a kidnap and attempted robbery at Halloween.
Masked men entered a home in Crossgar, County Down, on Halloween evening.
The couple who live there were held overnight and the man later ordered to go to his workplace, a cash delivery company, and remove cash.
No cash was handed over. The reward is being offered by his employer, G4S, through the Crimestoppers charity.
The incident began some time between 19:30 and 20:30 GMT on Monday 31 October when the masked and armed gang got into the house on the Drumaghlis Road.
The couple who lived there were tied up and had hoods put on them. They were held in their home for about an hour before the husband was taken away in his own car - a black Mini One registration number RE08 RYO.
The woman was kept apart from her husband and taken in a stolen blue Honda Civic bearing the registration number YR55 KAK to a derelict house at Myrtlefield Park in south Belfast where she was kept in a cupboard.
At about 04:20 GMT the next day the man was driven in his car by members of the gang to the Mayfield area off Hightown Road in Glengormley .
'Heinous offence'
He was told to drive his own car to his workplace and take money to Boucher Place in Belfast.
At 07:30 GMT, the man went to Boucher Place where he was met by a member of the gang driving the Honda Civic car. But before any money was handed over, the Honda Civic drove off.
At 09:00 GMT the woman freed herself from the house in Myrtlefield Park and raised the alarm.
Detectives are asking anyone with information to contact them.
The chairman of the Crimestoppers Committee for Northern Ireland, Paul Leighton, said: "This was an incredibly horrific experience for the couple involved and the individuals who committed this crime should be punished for their actions.
"It leaves a bitter taste in my mouth that nobody has been brought to justice for this heinous offence, and for that reason I would urge members of the public to come forward with information and pass it onto Crimestoppers anonymously by calling 0800 555 111 or through our secure online form at Crimestoppers-uk."