Judge rules against Hazel Stewart appeal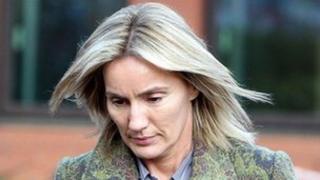 Hazel Stewart has insufficient grounds to appeal against her conviction for murdering her policeman husband and ex-lover's wife, a judge has ruled.
Stewart was jailed for at least 18 years for murdering Trevor Buchanan, 32, and 31-year-old Lesley Howell.
The preliminary decision was reached on papers submitted by the new legal team representing the 48-year-old.
But the mother of two is still to go directly to the Court of Appeal in an attempt to have her conviction quashed.
Her solicitor described the refusal by a single judge of leave to appeal as a "minor setback".
The victims were found in a fume-filled garage in Castlerock, County Londonderry in May 1991.
Gassed to death
Police originally believed they had died in a suicide pact after discovering their partners were having an affair.
They were in fact gassed to death before their bodies were arranged to make it look like they had taken their own lives.
It took nearly two decades for the truth to emerge when Stewart's former lover Colin Howell, 52, suddenly confessed to both killings.
He pleaded guilty to the murders last year and is serving a minimum 21 years prison sentence.
Howell also implicated his former lover in the plot and gave evidence against her at her trial.
In March a jury at Coleraine Crown Court found Stewart guilty on two counts of murder.
Lawyers for Stewart applied to a single judge for leave to appeal against conviction and sentence.
But following an in-chambers assessment of the papers a determination has been reached that the application should be refused.
'Minor setback'
However, it does not represent a fatal blow in Stewart's attempt to clear her name.
She can still apply directly to the Court of Appeal for leave to challenge the verdict. Any hearing is expected to be several months off.
Her solicitor, Michael McGee of Hasson and Co in Londonderry, said: "The judge's ruling was not unexpected. However, we are proceeding with the appeal and are confident of a positive outcome despite this minor setback.
"The appeal process is still at an early stage and we are continuing with our assessment of the issues with a view to overturning the convictions.
"We can confirm that no date for the hearing of the appeal has been set."