MPs praise Basil D'Oliveira's stand against apartheid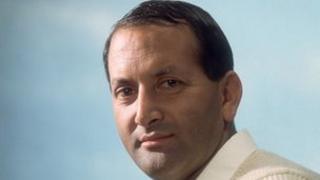 Four Northern Ireland MPs have paid tribute to England cricketer Basil D'Oliveira, who died this week.
The former England all-rounder was banned from playing in his native South Africa in 1968 because he wasn't white.
Six MPs have signed a motion praising Mr D'Oliveira's "dignified and courageous role" in standing up to apartheid.
They include DUP MPs Jeffrey Donaldson, Jim Shannon and David Simpson and the SDLP's Mark Durkan.
D'Oliveira played 44 tests for England after leaving South Africa in 1960 because of a lack of opportunity for black players. He died on Sunday, aged 80.
In 1968 he was picked to tour South Africa with England but the ruling National Party refused to accept him as part of the tour party.
The tour was cancelled and D'Oliveira's stance was the beginning of South Africa's sporting isolation, which was to last until the 1990s.
Mr Durkan said: "Basil D'Oliveira was a hero of the anti-apartheid movement.
"He was the central symbol of their campaign in the late 60s and early 70s and is someone who I was proud to call a friend."
The DUP's Mr Shannon also praised the far-reaching influence of the cricketer.
"He was a sportsman who excelled at cricket but also a person who was responsible for highlighting the problem of apartheid in South Africa," he said.
"He played a major and important part in the change in South Africa. Basil D'Oliveira really made his mark on the world."
The House of Commons motions reads in full: "That this house recognises the passing of Basil D'Oliveira; and records its thanks for the dignified and courageous role he played in helping to do away with apartheid in South Africa and the important and critical part he played in changing history."