Minister agrees pay rise for NI Water head Trevor Haslett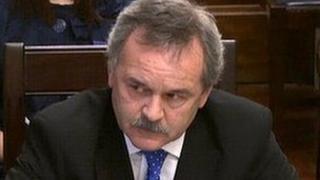 The regional development minister has agreed to increase the acting chief executive of Northern Ireland Water's pay.
Danny Kennedy has permitted Mr Haslett's pay rise but only if NI Water performs satisfactorily over winter.
Earlier this month, Mr Haslett reversed his plans to resign from the company.
He wanted more security of tenure with a two-year contract and a £20,000 pay rise.
A spokeswoman for the Department for Regional Development confirmed the deal.
"Northern Ireland Water needs leadership and stability," she said.
"Trevor Haslett has demonstrated that he is the best person to lead NI Water through the winter that is almost upon us and beyond.
"The package proposed by the board of NI Water has been approved but will not be paid until after the winter period. A significant element is subject to a satisfactory performance over the winter."
Following behind the scenes negotiations, the board of NI Water contacted the Department of Regional Development and asked Mr Kennedy for approval for the new terms and conditions it was offering Mr Haslett.
At that point the minister said he would not be "stampeded" into making any decision and would be consulting ministerial colleagues before deciding what to do.
Mr Haslett has been in the post for less than a year after the resignation of the previous boss in the midst of the Christmas water chaos.
Lawrence MacKenzie stood down amidst damning criticism of the company's handling of the water shortages during the big freeze last winter.
Details including the length of Mr Haslett's contract have yet to be announced.